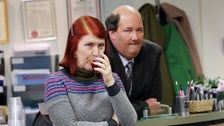 "The Office" almost had an especially sobering moment.
On Monday, Meredith herself, Kate Flannery, joined "Late Night" host Seth Meyers to chat about the beloved sitcom (now streaming on Peacock), noting that early on, the writers were still figuring out the characters. 
"I had no idea [Meredith] was gonna become a drunk or a floozy," Flannery told Meyers. "But my dad owned Flannery's Tavern for years, so I feel like playing an alcoholic, I come by it quite honestly."
Flannery went on to reveal that she originally had a speech in Season 2 about her character's alcoholism, but it was deemed a bit too intense.
"I do remember the first Halloween episode during Season 2, that's when I had my first monologue about being an alcoholic, and I guess it was so dark that the network decided not to use it. So we had to wait 'til Christmas to reveal that Meredith was a drunk," the actor said.
In that Season 2 Christmas episode, Meredith is especially excited when Michael Scott (Steve Carell) brings adult beverages to the office holiday party. Apparently, she thinks "doing alcohol is cool" or something, and she ends up flashing her boss at the end of the night.
"The Office" showrunner Greg Daniels previously told HuffPost that another Meredith moment was also deemed too dark for the show. In that storyline, Michael would've intentionally hit Meredith with his car.
"At one point, the writers pitch the story that Michael ran over Meredith in the parking lot and backed over her as to finish the job," Daniels said. "Which is a horrible, horrible story. I had to put a stop to that."
Michael was never the best driver, but he wasn't out to hit Meredith with criminal intent either. His regular absent-mindedness was all he needed for that, and in Season 4, the "Office" boss does accidentally clip Meredith in the parking lot. 
It was a scene in which Flannery did all her own stunts, and you can hear about it in the "Late Night" video above.
Calling all HuffPost superfans!
Sign up for membership to become a founding member and help shape HuffPost's next chapter