Comedy
Sky to air James Acaster's stand-up special : News 2023 : Chortle : The UK Comedy Guide
James Acaster's stand-up special Cold Lasagne Hate Myself 1999 is to air on Sky Comedy this Christmas.
It is one of three stand-up shows to be broadcast over the festive season, along side the previously announced Leo Reich: Literally Who Cares?! and  Alan Carr's  fourth solo show, Regional Trinket.
In his acclaimed show, Acaster dissects the best year of his life to date, 1999, and the worst year, 2017 – covering breakups, family holidays, a solar eclipse, therapy and his meltdown on The Great British Bake Off.  
Cold Lasagne Hate Myself 1999 is his first televised special since he released the Repertoire quartet of shows on Netflix in 2018. It has previously been released as a paid stream, and is still available on Vimeo for £8.
The comic said: 'This show is about 2017. And 1999. And a little about 2013. But mostly it's about 2017. 
'I toured it in 2018 and 2019, when I also filmed it. I spent 2020 editing the show and then released it independently in 2021. 
'Now, in 2023, I'm delighted it's found a new home on Sky. Bon appetite!'
Reich's first solo stand-up show  Literally Who Cares?!, a parody of self-obsessed Gen Z. earned him a best newcomer nomination at last year's Edinburgh Fringe. The TV version was taped at Earth in Hackney, East London in September and will also air on HBO in the US.
The comic said: 'I'm so thrilled that the show will be available in the UK… it was very important to me that Britain be able to witness the monster it has created.'
Meanwhile Carr's show revolves around his wedding day – at which Adele officiated – and subsequent split from is husband, as well as the lows of lockdown stuck on a farm.
He said: 'My Regional Trinket show is coming to Sky, and I couldn't be happier. I've toured this show from Nottingham to New York from Lisbon to Los Angeles and I am always blown away by the audience's reaction to it so for the lovely Sky viewers to sit and enjoy it with their families this Christmas warms the cockles of my heart. 
'Written at probably one of the unhappiest times of my life, it's turned out to be one of the funniest. My most personal tour to date has turned out to be my biggest yet which just goes to show misery loves company! Enjoy!'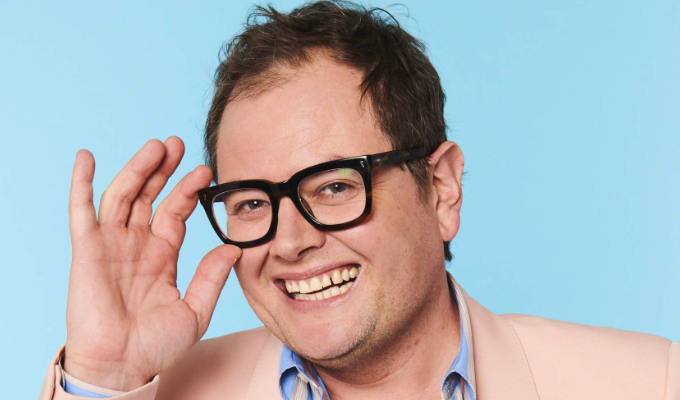 These three shows join a host of stand-up specials already available to watch on Sky Comedy, including Katherine Ryan: Missus; Rob Beckett: Wallop; Nish Kumar: Your Power, Your Control; and Micky Flanagan: An' Another Fing. 
Zai Bennett, managing director of content at Sky said: 'Sky is chuffed to have some of the best British comics on Sky Comedy this winter with three exceptional stand-up specials.'
James Acaster: Cold Lasagne Hate Myself 1999 airs on December 12 followed by Leo Reich: Literally Who Cares?! and Alan Carr: Regional Trinket at later dates. They will also be available to stream on Now.
• Acaster's Springleaf Podcast, based on the undercover cop alter-ego he discussed on his Netflix special Recongise has also been released today.  The 10-part series features a raft of comedy stars including Romesh Ranganathan, Katherine Ryan, Tom Allen, Sara Pascoe, Joe Lycett, Lolly Adefope, Nish Kumar, Rosie Jones, Guz Khan, Phil Wangm Ed Gamble,  Bill Bailey, Jo Brand and Sarah Millican.
Published: 21 Nov 2023
Source link