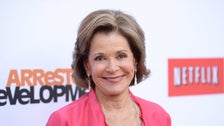 Jessica Walter, the Emmy-winning and legendary comedic actor, sadly died Wednesday at the age of 80.
And fans on Twitter did the internet equivalent of pouring out a martini by sharing their favorite and most iconic Walter moments from her six-decade career — from her scene-stealing roles as Lucille Bluth on "Arrested Development" and Malory Archer in "Archer" to lesser-known characters like Fran Sinclair in "Dinosaurs."
She was truly a star war.
To read their tributes, scroll down.
Jessica Walter's performance in Arrested Development made me look forward to one day being a mean old bitch. RIP.

— Erin Zero Republicans Ryan (@morninggloria) March 25, 2021
Spending 10 dollars on one banana today in honor of Jessica Walter

— Chris Murphy (@christress) March 25, 2021
Jessica Walter was iconic in the only way that really matters to me. Everything she said immediately became a thing nobody else possibly could have said. You will hear her voice when you ask how much things cost for the rest of your life

— Jess Zimmerman (@j_zimms) March 25, 2021
I think Jessica Walter's Lucille Bluth was the single funniest TV performance I can think of. The writing and everything put her in a position to succeed and all that, but she just couldn't have been better in it.

— David Roth (@david_j_roth) March 25, 2021
Lucille: Get me a vodka rocks

Michael: Mom, it's breakfast

Lucille: And a piece of toast

RIP Jessica Walter an actress's actress. A legend. An icon. pic.twitter.com/LS9E5HVbNM

— Phillip (@MajorPhilebrity) March 25, 2021
Lucille Bluth is the most enduring part of Arrested Development's afterlife because Jessica Walter made every line ICONIC.

— Kevin T. Porter (@KevinTPorter) March 25, 2021
I wish I could make a martini and then throw the ice in a white man's face today in honor of Jessica Walter. I feel like she would understand.

— Saeed Jones (@theferocity) March 25, 2021
Jessica Walter was a queen in every way: kind, classy, incredibly talented, generous with love & support. And so insanely funny. She was the brilliant center of our @archerfxx universe. Sweet flight to you, dear Jessica. You were so loved, and we were so lucky to know you. 💔 pic.twitter.com/0fsXh6CwbS

— Aisha Tyler (@aishatyler) March 25, 2021
Folks remember Jessica Walter for Arrested Development and Archer but she stole the entire film when she appeared as Morgan Le Fay in the original Doctor Strange. RIP https://t.co/r1XSr33KmA

— non fungible tolkien (@nolapfau) March 25, 2021
jessica walter's tv comedy work is obviously iconic but she also went toe-to-toe with eastwood in play misty for me (1971), one of her earliest films & she totally dominates the screen in what's practically a giallo role. what a performance, you need to see it if you haven't. RIP pic.twitter.com/zUGou6nQkh

— josh lewis (@thejoshl) March 25, 2021
Genuinely sad to hear that Jessica Walter passed away. An amazing 50+ year career. If you're only familiar with Lucile Bluth and Mallory Archer, check her out as Evelyn Draper in Play Misty For Me where she does what many of us dream of doing: terrorize Clint Eastwood. pic.twitter.com/h9Z70pmKMb

— dave horwitz (@Dave_Horwitz) March 25, 2021
Jessica Walter doing Spring Awakening in 90210 was so weirdly formative for me.

RIP to a legend. We owe so much of our online vernicular to her. pic.twitter.com/uRlyDZkhTo

— Jorge Molina (@colormejorge) March 25, 2021
Jessica Walter never missed. If she didn't get a laugh there was a problem with the script.

— John Levenstein (@johnlevenstein) March 25, 2021
once in a deep depressive state i was half-watching DVD commentary on Arrested Development, and while the rest of the cast tried to talk about scenes etc., Jessica Walter just kept interrupting every time Will Arnett came on screen with "look how handsome he is!!" a horny queen

— miles klee 🐠 (@MilesKlee) March 25, 2021
RIP and a true story – when I made her Arrested Development character my Twitter avatar, she sent me an email asking me to take it down https://t.co/tKZuMqhhjc

— Maggie Haberman (@maggieNYT) March 25, 2021