World
Israel-Hamas war live: Netanyahu announces government meetings tonight 'in light of developments' on hostage releases | Israel-Hamas war
Netanyahu announces series of government meetings tonight 'in light of developments' on hostage releases
Israeli prime minister Benjamin Netanyahu's office has announced a series of government meetings tonight "in light of developments on the issue of the release of our hostages".
The war cabinet will meet at 6pm (4pm GMT), the security cabinet at 7pm (5pm GMT) and the full government at 8pm (6pm GMT).
Key events
The head of the World Health Organization (WHO), Tedros Adhanom Ghebreyesus, said he is "devastated" that a colleague has been killed in Gaza.
Dima Alhaj was "tragically killed alongside her six-month-old baby, her husband and two brothers", he wrote in social media post alongside a photo of Alhaj.
He said multiple other family members were also killed as they sheltered in the same house, adding:
I have no words to describe our grief.
The Palestinian Red Crescent Society (PRCS) has said three doctors were killed in what it said was an Israeli strike on Al-Awda hospital in northern Gaza.
Doctors Without Borders (MSF) has confirmed that two of its doctors and a third health ministry doctor were killed following what it said was a strike on Al-Awda.
ActionAid said it was "horrified" to learn from the hospital, which is a partner to the organisation, that three doctors were killed after the fourth floor of the building was hit by bombing. It added:
While we are still awaiting further information, our position is in no doubt. This bombing of Al-Awda is yet another potential breach of international humanitarian law in a crisis where the rights of patients to access lifesaving care are being violated daily. Healthcare workers, ambulances, and hospitals are never a legitimate target.
In a statement, Al-Awda said that it "adhered to the medical and health principles and practices in times of conflicts and war" and that "only medical personnel, patients and the injured" were inside the hospital.
MSF says its doctors were killed in strike on northern Gaza hospital
Doctors Without Borders (MSF) has said it is "horrified" by the killing of two of its doctors and a third health ministry doctor following what it said was a strike on Al-Awda hospital in northern Gaza.
The MSF doctors, Dr Mahmoud Abu Nujaila and Dr Ahmad Al Sahar, were in the hospital when it was hit on the third and fourth floors, the charity said in a statement. Other medical staff, including MSF staff, were severely injured, it said.
More than 200 patients are still in Al-Awda and must be urgently evacuated to other hospitals in Gaza that are still functioning, MSF said.
It said it has regularly shared information about Al-Awda – one of the last remaining functional hospitals in northern Gaza – and that it had shared GPS coordinates with Israeli authorities on Monday. The statement continued:
We condemn this strike in the strongest terms and yet again call for the respect and protection of medical facilities, staff and patients.
Attacks on medical facilities are a "serious violation of international humanitarian law", it said, adding that such attacks have become "systematic" in the past weeks.
This is yet another incident that MSF staff have been subject to in the last few days. Our colleagues who are assisting hundreds of patients in Gaza are facing extremely difficult times in providing the little medical care they can. Seeing doctors killed next to hospital beds is beyond tragic, and this must stop now.
Israel's Religious Zionist Party, led by finance minister Bezalel Smotrich, has said it cannot agree to a proposed deal for the release of some of the hostages held in Gaza.
In a statement, the party described the deal as "bad for Israel's security, bad for the hostages, and bad for the soldiers of the IDF", the Times of Israel reported.
It said the deal will "abandon" some of the hostages for an uknown period of time, "raise the price" for their release, and give Hamas the opportunity to reorganise.
The only way to return all the hostages "is by continuing the unceasing military pressure on Hamas until total victory", it said, adding:
Religious Zionism will stand strong for the continuing of the war until the total destruction of Hamas, the return of all the hostages, and the elimination of the threat posed by Gaza to Israeli citizens.
UN warns of 'tragic, avoidable surge' in child deaths in Gaza
The UN has warned that a "tragic … entirely avoidable surge" in child deaths is expected in Gaza, where on average a child is killed every 10 minutes.
"About 160 children are killed every day; that's one every 10 minutes," said World Health Organization (WHO) spokesperson Christian Lindmeier on Tuesday.
Speaking to journalists in Geneva, he said that "every 10 minutes, two children are injured" and that children and families have been dying "in terrifying circumstances".
The UN children's agency (Unicef) warned that number could skyrocket due to the serious additional threat of a mass disease outbreak in the besieged Palestinian territory. The Unicef spokesperson James Elder said:
If youngsters continue to have restricted access to water and sanitation in Gaza, we will see a tragic yet entirely avoidable surge in the number of children dying.
"The death toll among children is sickening," he said, noting that more than 5,350 Palestinian children had reportedly been killed, according to Gaza health authorities.
Grief is becoming embedded in Gaza. So this then is a stark warning: without sufficient fuel, without sufficient water, conditions for children will plummet.
He said the daily minimum need in emergency situations was 15 litres of water per person, but that in parts of Gaza as little as three litres a day is available, and none on some days.
Pointing to "a desperate lack of water, faecal matter strewn across densely populated settlements [and] an unacceptable lack of latrines", Elder said it was a "perfect storm for the spread of disease".
At least 52 journalists and media workers have been killed since the Israel-Hamas war began on 7 October, according to the Committee to Protect Journalists (CPJ).
The press group updated its death toll after the news that two journalists from the Hezbollah-affiliated Lebanese channel Al Mayadeen were reportedly killed while working in southern Lebanon on Tuesday.
The toll now includes 46 Palestinians, four Israelis and three Lebanese killed since 7 October, as well as 11 journalists injured and three missing journalists.
Sherif Mansour, CPJ's Middle East and North Africa programme coordinator, said:
Journalists across the region are making great sacrifices to cover this heart-breaking conflict. Those in Gaza, in particular, have paid, and continue to pay, an unprecedented toll and face exponential threats. Many have lost colleagues, families, and media facilities, and have fled seeking safety when there is no safe haven or exit.
Biden says 'very close' to hostage deal
The US president, Joe Biden, has said a deal is "very close" to securing the release of potentially dozens of hostages held by Hamas.
Speaking to reporters at the White House on Tuesday, Biden said:
We're now very close, very close – we can bring some of these hostages home very soon, but don't want to get into the details of things.
He added:
Nothing is done until it's done and when we have more to say we will, but things are looking good at the moment.
Meanwhile, a US official told Reuters that Israel and Hamas were "very, very close" to agreeing a deal.
The deal would include Hamas releasing 50 hostages, mostly women and children, in exchange for 150 Palestinian prisoners and a pause of four or five days, the official said.
We believe we are very, very close to having a deal. There is still a lot of work to be done, still approval that has to be achieved. But we believe we are very close.
It comes as Israel's prime minister, Benjamin Netanyahu, has convened his war cabinet amid growing signs of an imminent deal on the release of hostages.
Netanyahu is expected to then meet his security cabinet at 7pm local time (5pm GMT) and the full government at 8pm (6pm GMT).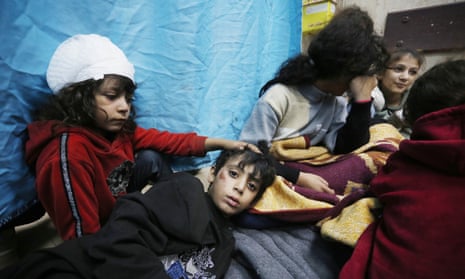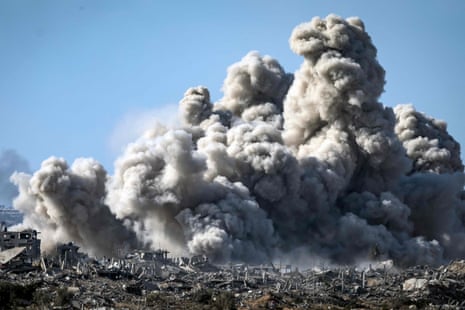 EU approves continued Palestinian development aid
The European Commission has said it will continue to provide financial aid to the Palestinians after an investigation found no evidence that the money was going to Hamas.
On 9 October, after the Hamas terror attack on Israel, the EU's executive branch announced a review of the use of hundreds of millions of euros in development assistance meant to help the Palestinians fight poverty.
The European Commission executive vice-president, Valdis Dombrovskis, at a press briefing in Strasbourg today, said:
The review found no indications of EU money having directly, or indirectly, benefited the terrorist organisation Hamas.
The EU is the world's biggest provider of assistance to the Palestinians. Almost €1.2bn is earmarked for 2021-2024.
In a statement, the European Commission president, Ursula von der Leyen, said the review was "necessary" and that it has "confirmed that the safeguards in place are effective", adding:
Work is now ongoing on the design of our future support to the Palestinians in view of the changing and still evolving situation.
A celebrated Palestinian poet and author, Mosab Abu Toha, has reportedly been released after he was arrested by the Israel Defense Forces (IDF) and taken into questioning.
Abu Toha was detained on Monday by Israeli forces while trying to leave Gaza, according to his friends and family.
He had been told by US officials that he and his family would be able to cross into Egypt, as one of his children is an American citizen. They were on the way from north to south Gaza, heading for the Rafah crossing point on Sunday, when he was rounded up along with other Palestinian men at an Israeli military checkpoint and taken away.
Abu Toha had been writing in the New Yorker magazine about his experiences under bombardment in Jabalia refugee camp in northern Gaza.
The newyorker.com's editor Michael Luo said Abu Toha had now been released and reunited with his family in central Gaza.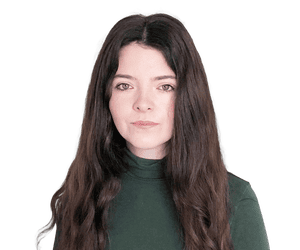 Ella Creamer
More than 1,800 writers and publishers have signed an open letter in support of the pro-Palestine protesters who disrupted the ceremony of a prestigious Canadian literary award last week.
Among the signatories is the Canadian author Sarah Bernstein, the winner of the C$100,000 (£58,000) Scotiabank Giller prize.
The Giller prize event was first interrupted when protesters jumped onstage with signs that read "Scotiabank funds genocide", while another protester shouted that Scotiabank "currently has a $500m [£398.7m] stake in Elbit Systems" and that "Elbit Systems is supplying the Israeli military's genocide against the Palestinian people".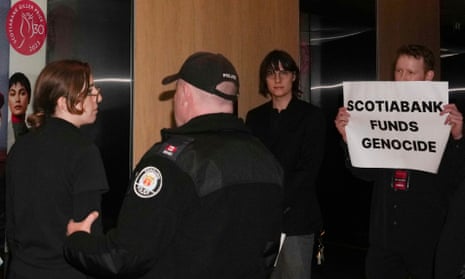 The event was interrupted a second time when the winner's announcement was being made. As Bernstein's name was called, a protester posing as a photographer began shouting, so the organisers repeated the announcement.
The letter states that protesters were booed by the audience, forcibly removed, detained by police for three hours after the event ended and are now facing charges, which it says should be dropped.
We reported earlier that a Lebanese news channel said two of its journalists were killed by an Israeli airstrike in the south of Lebanon, near the UN-marked boundary with Israel.
The Israel Defense Forces (IDF) has said it is reviewing the incident. In a statement, the IDF said:
We are aware of a claim regarding journalists in the area who were killed as a result of IDF fire.

This is an area with active hostilities, where exchanges of fire occur. Presence in the area is dangerous. The incident is under review.
The Al-Mayadeen news channel earlier accused Israel of a direct attack on its journalists, a correspondent, Farah Omar, and cameraman Rabih Maamari, who were reporting on military activity along the border with Israel.
A third civilian was killed along with the two journalists, according to the broadcaster's director Ghassan bin Jiddo, who said it was "a direct attack, it was not by chance".
China's president, Xi Jinping, has called for the convening of an "international peace conference" to resolve the Israel-Hamas conflict, as he urged the release of "civilian detainees" and an immediate ceasefire in Gaza.
Xi, addressing a virtual summit of fellow Brics (Brazil, Russia, India, China and South Africa) leaders on Tuesday, was quoted by the state-run Xinhua news agency as saying:
All parties in the conflicts should immediately cease fire and hostilities, stop all violence and attacks targeting civilians, and release civilian detainees to avoid more loss of lives and suffering.
He said there could be no "sustainable peace and security" in the Middle East "without a just solution to the question of Palestine", adding that China has been "working actively to promote peace talks and a ceasefire".
Beijing "calls for an early convening of an international peace conference" to "work toward an early solution to the question of Palestine that is comprehensive, just and sustainable", he said.
Patrick Wintour is the Guardian's diplomatic editor:
A revolt by leaders of the global south against US support for Israel's bombardment of Gaza is brewing as Arab diplomats met their counterparts in China and Moscow, while South Africa's president Cyril Ramaphosa convened a virtual meeting of the leaders of the Brics countries to condemn Israel.
The Biden administration has been repeatedly warned, including by its own diplomats, that it risks serious loss of support among global south nations that accuse the US of displaying double standards by condemning Russian war crimes in Ukraine, yet remaining largely silent over Israel's actions in Gaza.
The Brics group consists of Brazil, Russia, India, China and South Africa, and new Brics entrants whose full membership commences next year, including Saudi Arabia, Argentina, Ethiopia, Iran and the United Arab Emirates, were also invited. South Africa has already cut off diplomatic ties with Israel.
The Arab diplomats have been on a tour of capitals of permanent members of the UN security council to gather support for a further UN security council resolution instructing Israel to stop preventing humanitarian aid reaching Gaza. It may also ask for the security council to upgrade the call made on Israel to implement a humanitarian pause to an instruction. Israel immediately rejected a UN security council last week to introduce humanitarian pauses.
The delegation started their tour in China before heading to Russia on Tuesday in a sign that the Arab countries now realise they will have to demonstrate to the US president Joe Biden he cannot take an Arab-US alliance for granted if he continues to provide such strong support to Israel.
It is also expected that some members of the delegation will visit France and the UK. The Qatar prime minister Mohammed bin Abdulraham bin Jassim Al Thani had announced he is due to visit Moscow and London this week.
An Egyptian foreign ministry spokesperson said the diplomats had "drafted a new resolution to be submitted to the security council by the Arab and Islamic groups; to deal with existing obstacles and imbalances of humanitarian aid entry to Gaza.
Here are some of the latest images sent to us over the news wires from Gaza and Israel.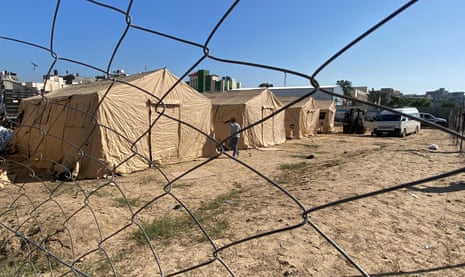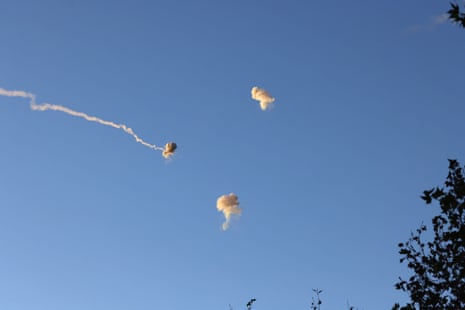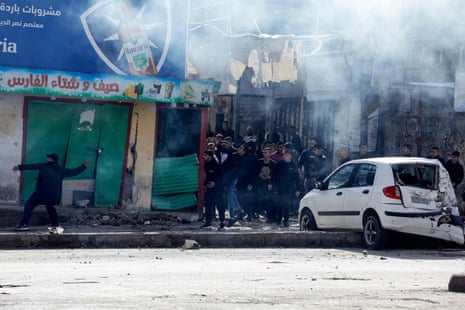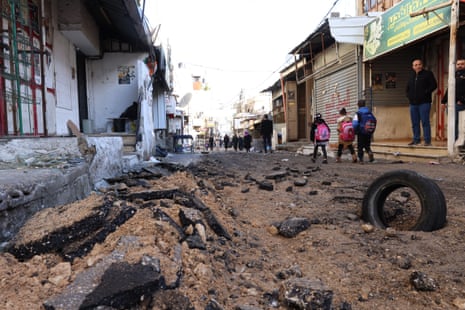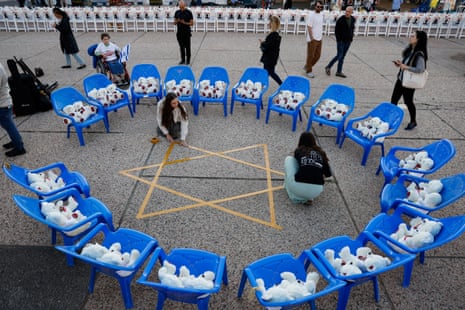 Britain has deployed 1,000 extra troops in Middle East since 7 October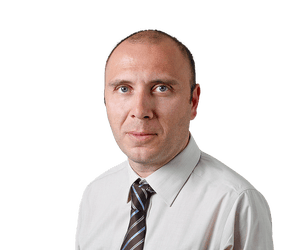 Dan Sabbagh
Dan Sabbagh is the Guardian's defence and security editor:
Britain has deployed an extra 1,000 military personnel around the Middle East since Hamas's deadly 7 October attack on Israel, junior defence minister James Heappey said on Monday in a parliamentary answer, revising upwards the deployment to the region.
The figure is notably higher than the 600 mentioned by Grant Shapps, the defence secretary, to British MPs yesterday, but it is understood that he was incorrectly referring to an older figure that also did not fully include the UK's naval commitment.
Responding to a question from opposition Labour's shadow defence secretary John Healey, Shapps also confirmed that UK forces personnel "have been moved to Tel Aviv" in Israel as well as Beirut and Jordan to help protect British military and civilians in the region.
Defence sources indicated on Tuesday these were British officers to provide liaison with the Israeli Defense Force, and to draw up emergency evacuation and other plans in event of a wider war involving Hezbollah and possibly Iran – but not combat-ready soldiers providing force protection.
Healey asked on Monday whether the government was right to continue to pursue planned cuts to the size of the British army to 73,000, given the Israel-Hamas war, but Shapps said the UK could manage the extra deployment and more if needed. "I am satisfied that we cut our cloth in order to react to events around the world," the defence secretary said.