World
Israel-Hamas war live: 28 premature babies 'moved to Egypt' from Gaza; Israel warns Palestinians to leave Jabaliya refugee camp | Israel-Hamas war
28 premature babies evacuated from Gaza into Egypt – reports
A picture has been issued showing the ambulances carrying premature Palestinian babies who have been evacuated from al-Shifa hospital in the process of crossing into Egypt via the Rafah border crossing.
Egypt's Qahera news channel appears to have shown four ambulances on the Egyptian side of the border.
The Palestine Red Crescent Society had earlier posted images of the babies being prepared for transportation.
Thirty-one babies were evacuated from al-Shifa hospital. Reportedly three of the babies have remained in Gaza because the families of two of them want them to remain there for "personal reasons", and because a third is unidentified. A medical spokesperson told the BBC that the babies remaining in Gaza were in a stable condition.
Key events
Spain's newly re-elected prime minister, Pedro Sánchez, will travel to Israel and Palestine on Thursday, his office has said.
Sánchez will travel alongside his Belgian counterpart Alexander de Croo, according to a statement from his office.
Both leaders will meet with Israeli prime minister Benjamin Netanyahu, Israel's president Isaac Herzog and the Palestinian president Mahmoud Abbas, the statement added.
The Palestine Red Crescent Society (PRCS) has said it transferred 28 premature babies into Egypt in ambulances, after 31 were evacuated from al-Shifa hospital in northern Gaza.
A total of 28 premature babies were rescued from Shifa hospital and taken to Egypt in an effort coordinated by the PRCS. Three babies remained in Gaza, two for family reasons, and one because the family could not be identified.
They were evacuated after Gaza's biggest hospital was no longer able to function after an IDF raid. Israel has said Hamas has command centres underneath hospitals in Gaza but Hamas has denied this.
Some mothers of the premature babies were present at the crossing, one woman described the ordeal of having to leave her baby inside al-Shifa while she evacuated south.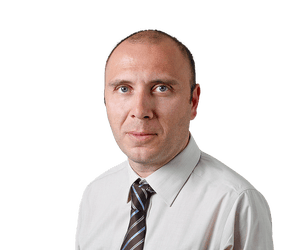 Dan Sabbagh
A dozen people were reportedly killed at a second major medical facility in northern Gaza on Monday as Israeli forces closed in around the packed Indonesian hospital despite hopes that a ceasefire for hostages deal may be agreed.
Video broadcast on al-Jazeera showed damage to what were described as patient facilities, while daytime footage on social media appeared to show that Israeli tanks were close by the medical complex.
One medical worker, Marwan Abdallah, said the tanks were clearly visible from the hospital windows. "Women and children are terrified. There are constant sounds of explosions and gunfire," he added.
The ministry of health in Gaza said it believed 12 had been killed in shelling overnight and that it feared a repeat of what happened at the al-Shifa hospital complex, which was surrounded and raided by Israeli forces last week.
There was no immediate comment from the Israel Defense Forces, although in the past the Israeli military has said that it believed that a Hamas tunnel entrance is near to the Indonesian hospital and that missiles were launched into Israel from nearby.
Here's more from China's foreign minister, Wang Yi, who held talks with his counterparts from Saudi Arabia, Egypt, Jordan, the Palestinian Authority and Indonesia on Monday.
China has "firmly stood on the side of justice and fairness" and has been "working hard to de-escalate the conflict" in Gaza, the Chinese foreign ministry said in a statement.
A ceasefire should not be a diplomatic rhetoric. It is a matter of life and death for the people in Gaza. A ceasefire should be achieved as a top priority.
Beijing "opposes any forced displacement and relocation of Palestinian civilians", Wang said, calling on Israel to "stop its collective punishment of the people in Gaza" and for humanitarian corridors to be opened "as soon as possible to prevent a wider humanitarian disaster".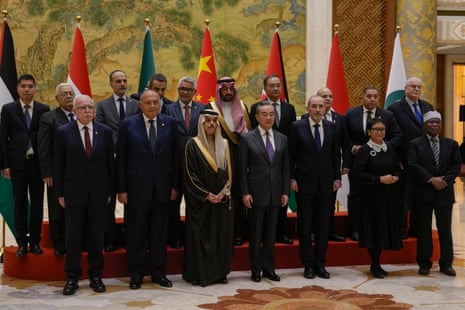 Jordan's Crown Prince Hussein has arrived in Egypt to oversee the planning of a field hospital in Gaza, the first since the war began on 7 October.
The director general of Gaza hospitals has said the field hospital will be established in Khan Younis, in the south, "to receive the wounded and the sick".
The hospital has a 41-bed capacity, according to the Jordanian royal palace. It was accompanied by 170 personnel and 40 trucks of medical aid, the head of medical aid in Gaza said.
Palestinian medics hope field hospitals sent by the United Arab Emirates and Qatar will soon follow.
Doctors without Borders (MSF) has said its clinic in Gaza City came under fire this morning, and part of the building was "engulfed by fire" as heavy fighting took place all around it.
A member of staff and 20 family members are in the clinic and in "extreme danger", the medical organisation said in a statement, as it urgently called for a stop to the fighting in the area.
More than 50 other people, including other MSF staff, are in nearby buildings, it said, as well as a wounded person requiring medical attention.
It said that four of its cars were burned, and a fifth was "broken in two pieces as if crushed by a heavy-duty vehicle or a tank." It added that "an Israeli tank was seen in the street".
All the cars and the clinic were clearly identified as being part of the charity, it said, adding:
The cars destroyed are the same that were used to attempt the aborted evacuation of MSF staff and their families on 18 November, resulting in the killing of one of their family members. They were the only means of transport they had to facilitate their evacuation.
The head of the World Health Organization (WHO), Tedros Adhanom Ghebreyesus, has said he is "appalled" by the reports of an attack on the Indonesian hospital in Gaza.
The attack killed 12 people, including patients, he posted to social media on Monday, citing unspecified reports. He added:
Health workers and civilians should never have to be exposed to such horror, and especially while inside a hospital.
Hello, it's Léonie Chao-Fong in Washington taking over the live blog. You can reach me at leonie.chao-fong@theguardian.com.
African Union chief says Israeli actions in Gaza are 'inexcusable'
The African Union (AU) has said that Israel's response to Hamas's massive attack last month was "inexcusable", warning that civilian casualties would fuel further "extremism".
AU chairman, Azali Assoumani, at a press conference in Berlin, said:
The acts (of Hamas) are reprehensible… but the response is inexcusable.

Imagine a child who has seen his mother, who has seen his father killed … it creates extremism.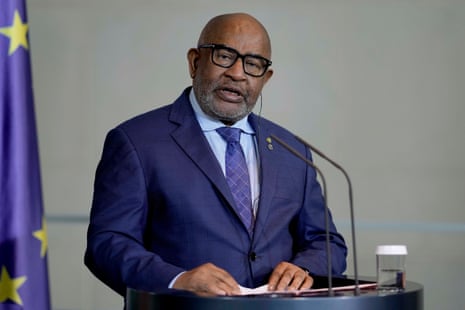 48 journalists killed in Israel-Hamas war, rights body says
The Committee to Protect Journalists (CPJ) has provided an update on the journalists and media workers killed by the war.
CPJ says the conflict has led to the deadliest month for journalists since it first began gathering data in 1992.
As of 20 November, CPJ found:
48 journalists and media workers were confirmed dead: 43 Palestinian, 4 Israeli, and 1 Lebanese.

9 journalists were reported injured.

3 journalists were reported missing.

13 journalists were reported arrested.
The deaths include Bilal Jadallah, director of Press House-Palestine, a non-profit which supports the development of independent Palestinian media. He was killed in his car in Gaza in an Israeli airstrike on Sunday, according to the Palestinian Journalists' Syndicate, Al Qahera News, and the Cairo-based Youm7.
The communal dining hall in Kibbutz Be'eri – which was devastated during the 7 October Hamas assault – has reopened for the first time, according to Israeli broadcaster, Kann.
Here are more details on the Jordanian field hospital that is being set up in the southern Gaza city of Khan Younis, according to the AFP news agency:
The field hospital has a 41-bed capacity, the Jordanian Royal Palace said.

Aed Yaghi, head of medical aid in Gaza, said it was accompanied by 170 personnel and 40 trucks of medical aid.

Mohammed Zaqout, director-general of Gaza hospitals, said the field hospital would help ease the pressure on existing health services, but added: "The number of medical personnel is limited and there aren't (enough) ambulances."

He said hospitals in the area were experiencing "catastrophic" conditions and could no longer accept women who needed to give birth by caesarean section.

Palestinian medics hope field hospitals sent by the United Arab Emirates and Qatar will soon follow.
Israel imposed what it calls a "complete siege" on Gaza during the war, but has recently accepted the delivery of limited supplies via the Gaza border crossing with Egypt.
Cairo, a US ally, has a peace treaty with Israel and the two countries have maintained a blockade on Gaza for years.
Some of the families of those believed to be held hostage by Hamas in Gaza have been speaking in a press conference at the Israeli embassy in London.
Iris Haim spoke about her 28-year-old son Yotam. She said:
We are really worried. As a mother I cannot explain what I feel that my son is not with me. This evil isn't against Jewish people but it's against the world. It starts in Israel but it will continue to harm every person in the free world if you do not open your eyes. It is monsters against children.
She told the media: "We lost contact with him at 10.44am that day, and since then we only have the basic clues that he is in Gaza now. He left his room healthy and not wounded, which gave us little comfort. But he has a chronic disease, he needs a vaccine every month."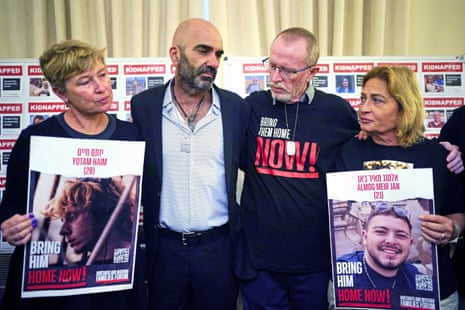 Here are some of the latest images sent to us over the news wires from Gaza and Israel.