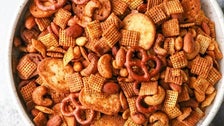 Sure, you can pop open a bag of chips and a jar of dip while you watch the Super Bowl, but you can do that any old day. Take advantage of the fact that the Super Bowl falls on a Sunday and put just the tiniest bit of effort into making a sweet, spicy, salt, crunchy snack. (If you've never had a handful of warm, spicy snack mix taken straight out of the oven, you're missing out on one of life's greatest pleasures.)
You've probably got everything you need to make a snack mix in your pantry. The foundation is usually a combination of crackers, cereal, pretzels or popcorn, and it's dressed with melted butter and some spices from your spice rack. Before you know it, you'll turn plain old staples into Parmesan Ranch Oyster Crackers, Everything Ranch Cheese and Pretzel Snack Mix, Brown Sugar Sriracha Sesame Popcorn and even Crispy Roasted Chickpeas.
Check out those recipes and more below!